'Everton's directors show up at Anfield – and must have wished they hadn't'
Everton's current surreal existence was summed up by the sight of directors who feel unable to attend games at Goodison Park on security advice willingly taking their places at Anfield to watch the Merseyside derby.
Chairman Bill Kenwright, chief executive Denise Barrett-Baxendale and former striker Graeme Sharp were joined by director of football Kevin Thelwell – and one glance at their expressions as Everton sunk to a 2-0 defeat suggested they wished they had given this one a miss as well.
Kenwright, Barrett-Baxendale and Sharp were missing when new manager Sean Dyche started his reign with a performance full of passion and intensity as Premier League leaders Arsenal were over-run at Goodison Park.
It was the second home game in succession where they stayed away as protests mount after Everton's painful decline on their watch.
And it was only right that their expressions should be so grim because Everton's performance made it even more unfathomable how owner Farhad Moshiri, the club board and Thelwell somehow failed to add a single player to a mediocre squad in January.
It is their handiwork, if one can call it that, that has resulted in Everton being in such a parlous position and left Dyche with such a tough task to keep them up.
Everton demonstrated that the win against Arsenal was a glaring exception rather than the rule but Dyche's presence will be a source of comfort because he has been over this course and distance before with Burnley and navigated it successfully.
You suspect Dyche is already well on the way to working out this Everton squad, assembled by so many managers who have been let down by these players. Yes, the succession of managers appointed and sacked by Moshiri must take their responsibility but so must this group.
Where Everton were fierce against Arsenal, they were timid at Liverpool. Where Everton where first to so much against Arsenal, they were second at Liverpool. Where they took care in their passing and work against Arsenal, they were sloppy against Liverpool.
Liverpool's opening goal after a quiet opening 36 minutes carried a freakish quality. Everton best moment of the night resulted in Mohamed Salah's opener – as the hosts struck in devastating fashion at one end 15 seconds after James Tarkowski's header had hit the post at the other.
Everton's board are currently facing rising anger from supporters, the relationship between the two sides seemingly damaged beyond repair, the fracture highlighted by the fact Kenwright and co will attend a game at Anfield but not at Goodison Park.
And one of the issues central to that rampant discontent is the sort of mismanagement that was brutally exposed by Everton's biggest weakness, and the biggest danger to their Premier League status.
Namely, the complete absence of attacking threat.
With Dominic Calvert-Lewin injured once more, Dyche was forced to rely on the raw materials of 22-year-old Ellis Simms for only his second Premier League start, his main experience coming in loan spells at Blackpool, Hearts and Sunderland.
It was no surprise Simms struggled so badly, especially given the lack of service, and through no fault of his own his presence illustrated Everton's desperately flawed strategy.
Everton sold Richarlison to Tottenham for £60m in the summer, with the only addition to striking resources coming in the shape of £12m Neal Maupay, unwanted by Brighton.
If the failure to replace Richarlison in the summer was a serious error, the failure to correct the problem in January compounded the folly. It amounts to negligence on the behalf of those in charge of recruitment at the club.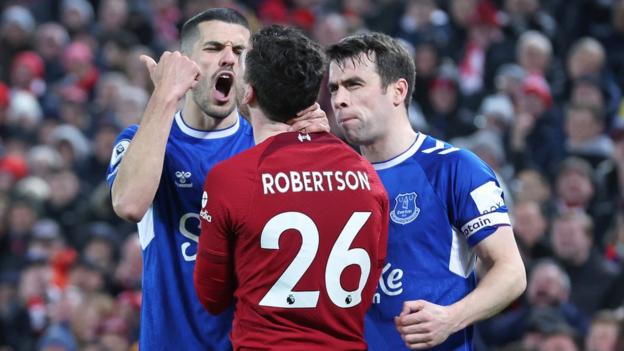 Everton are now left crossing everything hoping Calvert-Lewin can suddenly put 18 months of injury problems behind him because the cupboard looks very bare.
The good news is Dyche. He is a renowned organiser, fuelled by the goodwill of a support base who understand the job he has on his hands. He will not be cowed by what he faces and will have Everton well-drilled and committed in the weeks ahead, this result and performance only sharpening his desire.
How he solves that attacking dilemma is his greatest challenge.
What Dyche saw at Liverpool was the Everton that resulted in predecessor Frank Lampard's sacking. It was the real Everton on show at Anfield – now he must find a way of producing more of what they produced against Arsenal.
Sean Dyche is a realist. He will have known exactly what he needs to do.
And in the unlikely event Dyche did not know before, he will have known by the time he departed Anfield late on Monday night. What they saw as Liverpool eased to the 2-0 win that kept Everton in the relegation places was more in keeping with the sort of dismal fare that resulted in Frank Lampard's sacking as opposed to the fire and fury of the win over Arsenal.